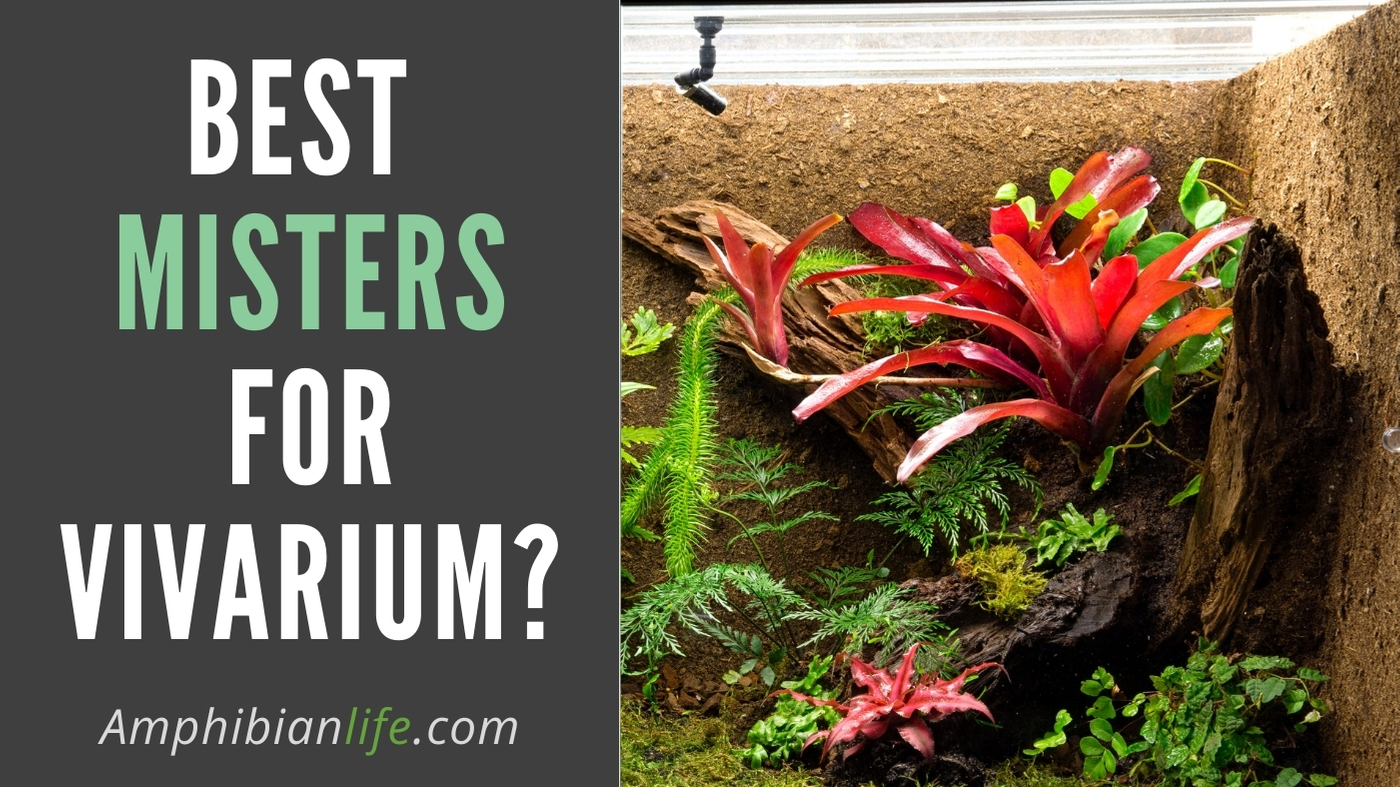 It's essential that you have an automatic mister for frogs but – before you rush out and buy one – you'll want to know which misting system is the best!
I'll give a quick answer for those of you who just want to buy now, and a bit more detail for anyone who wants to know more about how misting systems work.
What is the best automatic mister for frogs?
I recommend the Mistking Misting System, the Exo Terra Monsoon or, the Zoo Med Repti Rain.
To find out how I came to these choices, and what makes a good mister for frogs, please read on!
How to choose an automatic mister for frogs
First, you need to understand what kind of climate your frog is used to. Where is your frog from and does it need much misting?
Automatic misting systems are used to increase and maintain the humidity levels in a terrarium.
Misting systems vary in complexity. You can have a simple setup or you can have one that is very sophisticated. Which misting system you should choose depends on a few important factors.
1. Your set-up: Some misting systems are more suited to certain types of set-ups than others.
2. Your frog: Choosing an automatic misting system for frogs is heavily dependent on the environmental needs of your frog.
3. What kind of money are you willing to spend: If you know your budget, you also know which options you have for the misting system.
The misting system has increased in popularity in recent years, and with this complete guide, I hope to help you in finding out which one you need for your frog.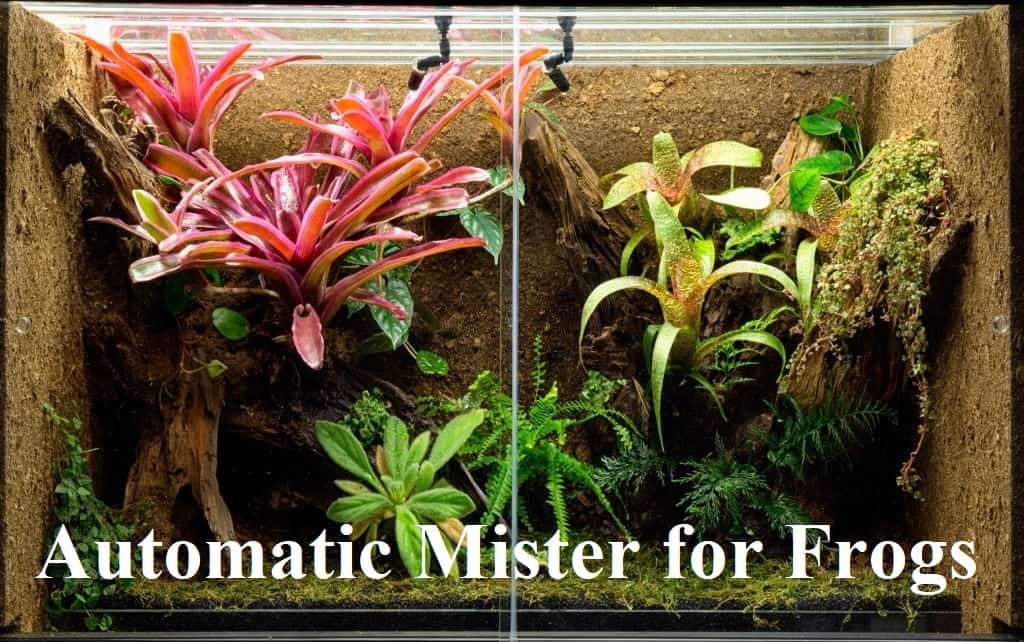 About automatic mister for frogs
There are six things you need to understand about automatic misting systems for frogs. Understand these and you'll know both why you need a mister and the basics of what it does.
1. Purpose
First, you very clearly need to know why you would use a misting system. The purpose of a misting system is to keep the humidity in a vivarium and a good constant level.
A misting system is not there to water your vivarium. Watering your vivarium can lead to excessive water in your substrate. This, in turn, can lead to bad health or even death for your frog.
It is very important to choose a misting system that uses as little water as possible, while still providing a fine mist.
2. Pressure
Misting systems can be divided into low-pressure and high-pressure systems.
This is important to know because the higher the pressure of the system, the better it is at creating a mist that provides high humidity but does not soak your substrate with water.
Low-pressure systems normally perform at 40 to 50 psi. The best high-pressure systems reach more than 250 psi.
3. Droplet size
To define the quality of the mist, you can look at the droplet size of your misting system. We measure the droplets in microns (one-millionth of a meter).
Droplet size of around 5 microns will give you a fine fog, 20 microns give you a heavy fog, and around 100 microns create a fine spray.

It is best to choose a droplet size that gives you the desired effect in the shortest possible time (this is to create high humidity without soaking your vivarium with water).
The droplet size of 100 microns or less is generally best. This is enough to increase humidity and will also leave a coat of moisture on smooth surfaces, which the frogs can drink from.
4. Volume
When we say volume, we mean the output of misting nozzles.
The output from these nozzles can be measured in 2 ways: gallons per hour or gallons per minute.
Gallons per hour (gph) are usually used for high-output nozzles. Gallons per minute (GPM) is often used for low-output nozzles and is more often used to create humidity.
If you're looking for nozzles for your misting system, you probably need to go with low-output and that this is measured in gpm.
5. Quality of the water
You should use purified water when you want to mist your terrarium. This is because tap water contains chemicals and minerals that can cause problems.
Chemicals and minerals can cause problems with the herbs and plants in your terrarium, as well as with the mister itself.
There are 2 ways to get purified water:
1. Buy it. If you choose this way, you need to always check if you have enough supply to let the misting system work properly.
2. Use a water-filtration system.
6. Let the water escape
Water that goes into your terrarium also needs to get out, one way or another. If it doesn't, your substrate will become saturated with water.
This is why you should make use of a drainage system. The best way to do this is to use bulkheads in the vivarium bottom, connected to a drainage pipe.
Catch the water in a container and empty it regularly.
Top 3 Automatic misters for frogs
A good misting system is a must-have for anyone who is enthusiastic about keeping their pet frog and vivarium healthy.
In years gone by, frog owners had to mist their vivariums manually, but now, it's easy to buy an automatic mister for frogs, with lots of products available.
To make things easier for you, I've reviewed some of the best automatic misting systems on the market.
MistKing Misting System
Mist King MKMS4-125-50 4th Generation Starter Misting System Package for Deck and Patio Cooling, Terrarium Habitats, and Greenhouse Applications
IMPROVED SYSTEM: 4th generation starter misting system features a basic design that acts as a starting point for customization
UPGRADED TIMER: Easily runs up to 10 nozzles with ease; For running more nozzles, consider upgrading to the Ultimate or Advanced Misting Systems
BETTER CONTROLLERS: 3 new controllers precisely run the misting system, letting you customize your system to control exactly how you need it
INCLUDES: Misting pump, adapter, 1 Value L misting assembly, reservoir bulkhead, 15 feet of 1/4-inch tubing, ST-24 timer, 5 tubing clips, and manual
VARIABLE APPLICATION: Built for multiple applications; Utilize the system for patio cooling, greenhouses, or terrarium habitats
This misting system is without a doubt the best automatic mister for frogs on the market.
The system is preferred by zoos and, hobbyists who want a reliable source of precipitation and humidity control. T
The system uses the highest quality pumps, spray nozzles, and digitally controlled seconds timers.

The MistKing Misting System is very quiet. So you can enjoy peace and quiet while your pets get the best treatment.
The system comes with the 24V diaphragm pump that is able of supporting up to 10 misting nozzles.
Also good to know is the fact that it can run dry without doing any damage to the pump.
The timer on the misting system, however, can be a little tricky to grasp.
When you are programming it, the left side is the clock time you want the misting system to start and on the right side, you have the amount of time you want it to run.

For example, if you would like your misting system to start at 8:00 am and run for 5 minutes,
the timer should look like this: 08:00:00 00:05:00. Some people make the mistake of putting in the following: 08:00:00 08:05:00 which means that the system will run for 8 hours and 5 minutes!

Another thing to keep in mind is the fact that MistKing has more than just this one kit. Here I have talked about the MistKing Starter Misting System v4.0.
It gives you everything you need to start and it also is the cheapest option they have. If you do need a more high-level setup I think you better check their advanced misting system.
Exo Terra Monsoon
The Exo Terra Monsoon multi is an excellent choice if you want a very easy to install and low-cost misting system.
The Exo Terra Monsoon will do the job of misting your terrarium more than fine, but it isn't as advanced as the Mistking System.
It comes with a relatively large reservoir of 2 gallons, which is easy to refill and has 2 nozzles to use for misting.
This system can be adjusted so that it can accommodate up to 8 nozzles.
There is also a function to set your spray time. This can be set anywhere between 2 seconds and 2 minutes.
The differences between the systems
The Exo terra monsoon nozzles have 2 articulation points where the Mistking system nozzles have 3 articulation points.
Having 3 articulation points gives you a bit more to play with to get your nozzle in exactly the right position.
That's not to say that only having 2 is bad. Not at all. It will do the job just fine.
The Exo Terra Monsoon has a nice thin stream with very large droplets and a lot of water.
The Mistking system, on the other hand, has a very wide stream and has very fine droplets. It's much more like a fog.
The suction cups that are delivered with the Exo terra monsoon are very handy and give you a little more freedom to set the nozzles where you want them to be.
They are very strong and won't fall down easily.
The Exo terra monsoon is an excellent choice when you want to mist your tank automatically with a system that is well made and easy to set up.
Zoo Med Repti Rain Misting System
Zoo Med Repti Rain
Programmable misting unit for terrariums, bird cages, aviaries or indoor gardens.
Complete with four programmable spray interval settings: every hour, 3 hours, 6 hours, or 12 hours and four spray duration settings: 15, 30, 45, or 60 seconds.
Includes adjustable mounting hooks, 4 point suction cup hold down, remote nozzle extension and 6 watt AC adaptor.
Completely portable for indoor or outdoor use.
Also runs on 4 "C" batteries (not included).
This last misting system for frogs that we'll look at today is the Zoo Med Repti Rain.
This is the budget option. It's perfect for the people who want to mist their terrarium but have a limited amount of money to spend.
The great thing about this system is the fact that it can even work on 4C batteries.
The Zoo Med Repti Rain works a bit differently than the two misting systems I mentioned earlier.
This system has four programmable modes where you can set spray intervals of 3, 6, and 12 hours.
The spray duration can be set to either 15, 30, 45, or 60 seconds.
Unfortunately, this particular system can be prone to leaks from the nozzles.
This can lead to the spray function not operating perfectly.
But, overall, you'll get a great product for your money and your frogs will be happy as well!
Buy the Zoo Med Repti Rain now
There's another thing that makes the Zoo Med Repti Rain a great option too.
This misting system not only comes with latches, but it also comes with suction cups as well!
So you can stick the whole misting system to the side of your terrarium.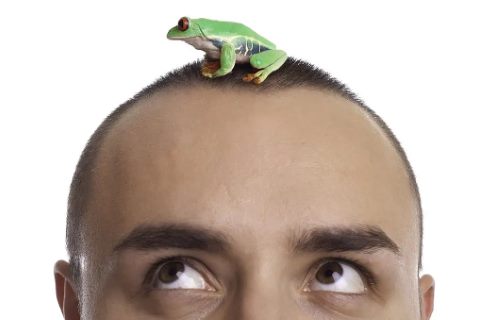 Hi, I'm Mike, and I'm the creator of amphibianlife.com. If there was one word to describe it? It would be: passionate about Amphibians! Whether you want to know more about amphibians or have a presentation to give at school, you've come to the right place.