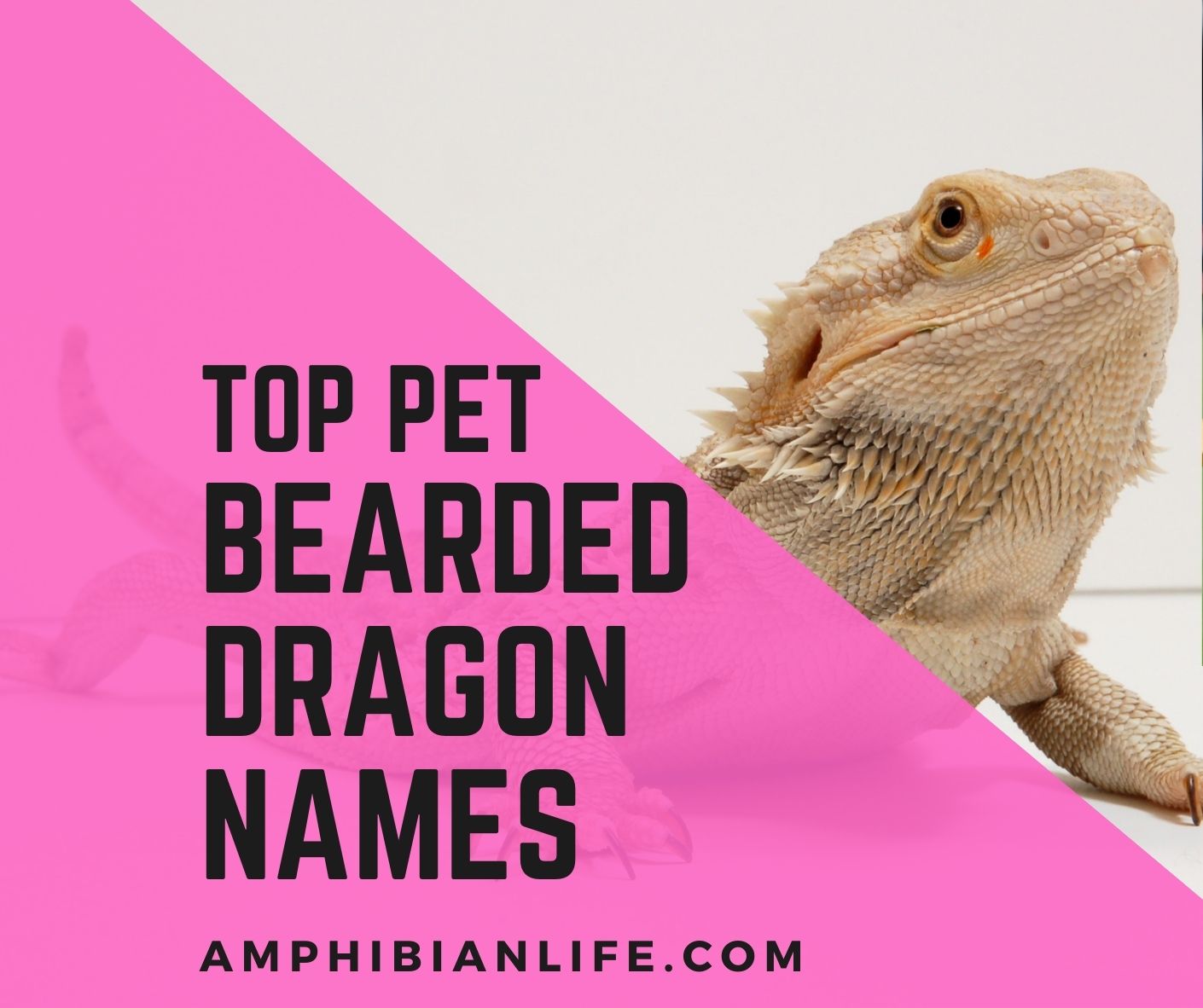 Bearded Dragon Names: Are you a new Bearded Dragon parent? Are you struggling to give it a suitable name? If yes, then you are at the right place.
Bearded Dragon or Pogona is a reptile from the Lizard family. With a similar appearance to wild lizards, they possess a "beard" of spikes under their chin that gives them their unique name.
Bearded dragons make excellent pets and even bond well with their owners.
While Australians absolutely love owning them as a pet, you may find them in subtropical woodlands, savannas, and warm areas. 
Owning a Bearded Dragon today is easy; naming them can prove surprisingly tricky.
While some owners find them cute, some say they are dangerous true to their name.
Though, whatever your thoughts are, we have suitable names for most of them. 
600+ Bearded Dragon Names for your little pet
Below we have compiled a huge list of Bearded Dragon names.
To help you simplify the process, we have categorized them based on Gender, Cuteness, Funny names, and more. Have a look:
Cute Bearded Dragon Names
Untrue to their name, Bearded dragons are cute, and we can argue on that.
Their triangular heads and the beard spikes on their chin make them look intrigued and chill.
Over that, their adorable behavior makes them look more winning and charming. 
So, if you are planning to name your little bearded pet something cute,
here are some great options. Choose the one that will fit your vocabulary like a glove. Have a look:
Cupcake
Koala
Tiny
Pikachu
Peewee
Snarky
Sulky
Raisin
Teddy
Amber
Thumbelina
Waffles
Honey
Chowder
Waddles
Reese
Nova
Shifter
Pepper
Houdini
Sandy
Olive
Snuggles
Chica
Sprout
Pip
Angel
Biscuit
Mushu
Sunray
Juan
Spot
Sunkist
Nugget
Button
Aithusa
Snapdragon
Sandals
Toothless
Honey-bear
Chiclet
Huffy
Cross
Powderpugg
Prickles
Viserion
Peaches
Mr. Cuddles
Pookie
Sunny
Sweetie
Bambi
Speck
Alejandro
Pepsi
Toto
Fido
Dragonfly
Marbles
Fluffy
Sprinkles
Matches
Dolly
Munchkin
Acorn
Pipsqueak
Pumpernickel
Mudflap
Eggo
Pebble
Billows
Gabriela
Dollface
Flounder
Fun Fact: Bearded Dragon have 3 common colors (Orange, Brown, and Tan)
Itty Bitty
Stormfly
Piccolo
Happy
Boss
Smaug
Forest Grump
Bitty
Cuddles
Kilgharrah
Ignacio
Dizzy
Valeria
Dusty
Babe
Colt
Groucho
Schnookems
Sugar Cube
Rhaegal
Crankenstein
Eggo
Cricket
Sugar
Malificent
Teeny
Unisex Bearded Dragon Names
Unisex Bearded Dragon Names are becoming quite popular today. Such names are great for owners who are unfamiliar with their pet's gender.
And because nurturing them isn't different for male and female bearded dragons, you can easily go with the unisex names.
Bearded dragon owners who are looking for a unisex name, the list below will smoothen down your search.
We have compiled creative and out-of-the-box names that will suit both genders without sounding odd.
Also, we are sure that a lot of unisex bearded dragon names who would have not even heard before. 
Cactus
Scaly
Pokey
Sushi
Skinny
Pickles
Toothless
Jaws
Sandy
Whiskers
Twinkle
Beast
Jessie
Ziggy
Spikey
Scooter
Copper
Porsche
Bugatti
Tinderbox
Typhoon
Ash
Sammie
Scamper
Fluffy
Smolder
Moon
Echidna
Chili
Dragonfly
Jellybean
Jalapeno
Ferrari
Scorcher
Viper
Python
Mustang
Taylor
Porcupine
Cuddles
Scratch
Leslie
Bluebeard
Ashley
Pancake
Unas
Marvel
Peanut
Zardo
Thunder
Griller
Hydra
Agave
Kerosene
Bailey
Lava
Smoky
Mochi
Prickles
Kevlar
Cucumber
Alex
Crawler
Majesty
Snapdragon
For Further Reading
Female Bearded Dragon Names
If the list of Unisex bearded dragon names doesn't interest you much, then why not try the gender-specific names. There are endless Female Bearded Dragon Names to choose from.
Specifically, if you know your Bearded Dragon's gender, it is always apt to go for a gender-specific name.
Apart from being female apt, these names are even unique and a lot less boring. Choose one of them for your little pet. Have a look:
Yolanda
Sahara
Jinx
Minnie
Leah
Vera
Zelda
Tinkerbell
Cassie
Goldie
Seashell
Lizzie
Fluffy
Jenny
Macy
Sophia
Matilda
Diamond
Ember
Starfire
Faith
Saphira
Gertie
Lillian
London
Bellatrix
Bridget
Medusa
Sparkles
Rainbow
Callie
Jasmine
Shellfire
Catherine the Great
Sienna
Eliza
Maya
Echinda
Marge
Glenda
Lady
Molly
Aphrodite
Dahlia
Alina
Isabella
Nessie
Duchess
Samantha
Paulina
Opal
Camila
Arizona
Abbie
Satine
Debbie
Elena
Athena
Kelly
Honey
Amelia
Fleur
Violet
Jenna
Emerald
Mojave
Liz
Valery
Mariah
Shelly
Holly
Katie
Ariadne
Ruby
Birdie
Naomi
Amy
Kenna
Evelyn
Selma
Bobbie
Selina
Jemma
Jade
Brandy
Ava
Rose
Jubilee
Fiona
Elsie
Lilah
Skye
Grace
Aurora
Penelope
Summer
Zoey
11 Rare Bearded Dragon Morphs
Standard or Classic Morph

( Basic bearded dragon with spikes and scales all over)

Hypomelanistic Morph

(pastel and below normal coloration)

Leatherback Morph

(No spikes on their backs but have them on heads and sides)

Translucent Morph

(They have see-through scales and spikes)

Silkback Morph

(Lacks the classic spikes with smooth skin patterns)

Dunner Morph

(Similar to classic morph except any obvious pattern on scales)

Paradox Morph

(Patterns look like paint was splattered on their bodies)

Giant Morph

German Giant morphs are largers counterparts of bearded dragons.

Witblits Morph

(Pale colored dragon with no patterns)

Zero Morph

(Extremely rare with no markings or patterns)

Wero Morph
Male Bearded Dragon Names
It is fairly easy to identify the gender of a bearded dragon. But the tricky part comes after that.
Once you have identified whether your bearded dragon is a male or female, naming them is a task.
Because there are thousands of names, choosing one apt for a Male Bearded Dragon can get confusing. 
Picking up a male name is not only easy to show bearded dragons' masculinity but is also fun. 
From the plenty of odd, common, boring, and fun names for male bearded dragons, we have compiled these few.
We hope this shortlist will help you in easing down the process. 
Aladdin
Ash
Herman
Yakuza
Hercules
Conrad
Raul
Richie
Mikey
Don
Goliath
Jace
Pico
Caesar
Spike
Kraken
Mace
Colson
Liam
Eddie
Eastwood
Rocky
Galileo
Yoda
Harvey
Draco
Rango
Godzilla
Bert
Roger
Viper
Brock
Lenny
Walter
Hulk
Dragonheart
Ritz
Terry
Manuel
Titan
Owen
Ferdinand
Yoshi
Kenobi
Connor
Duke
Luke
Ricky
Gorn
Blackbeard
Viggo
Derek
Jared
Morph
Dino
Spyro
Deke
Smaug
Picasso
Costello
Jameson
Abe
Anakin
Hugo
Xerxci
Timmy
Joker
Edgar
Wally
Shakespeare
Glycon
Joey
Sharky
Puff
Pablo
Eli
Billy
Phillip
Aladin
Falcor
Eragon
Davis
Leonidas
Sully
Franco
Peter
Jagger
Aurelius
Pip
Soldier
Simba
Durango
Zeek
Miles
Hamilton
Fuego
Bart
Kyle
Jacques
Parker
Teddy
Carl
Cliffhanger
Doogie
Rumple
Charmander
Venom
Rhino
Gordon
Cynder
Jake
Bob
Mike
Napoleon
Faulkner
Josh
Bones
Paul
Jimmy
Deamon
Pogo
Mushu
Mythos
Poncho
Ghidorah
Deamon
Lucas
Kratos
Egbert
Norbert
Jack
Momo
Zack
Duke
Cool and Badass Bearded Dragon Names
If you already have a bearded dragon as a pet, you would know how cool they are.
Besides being their cute and funkiest self, bearded dragons are cool, quirky, and badass. 
Proving how cool bearded dragons are, they can even change their color, blending with the surroundings.
Their overall base color can range from tan to yellow with brown strips over them.
However, today breeders have successfully managed to color these strips in shades like violet, orange, and red. Doesn't it sound cool?
Here's a long list of Cool bearded dragon names that you can consider:
Night Terror
Tinder
Kylo Ren
Maximus Decimus
Shellfire
Ash
Zippo
Snaptrapper
Combust
Forest Grump
Santa
Eruptodon
Biscuit
Hydra
Diesel
Slitherwing
Nymeria
Hunter
Pyre
Moonlight
Sunray
Submaripper
Captain Bluebeard
Mudflap
Rumblehorn
Beowulf
Bonfire
Catherine the Great
Stubble
Red Death
Fuego
Draco
Thunderdrum
Fireworm Queen
Lighter
Singe
Timberjack
Vampira
Magnum 
Buffalord
Hotburple
Spartacus
Darth Bane
Elizabeth
Spark
Saffron
Lightning
Stumpy
Leonidas
Nadder
Hobblegrunt
Carbon
Rex
Snowflake
Casper
ViserysDarth Vader
Scorpio
Ares
Amber
Fork
Skrill
Apollo
Marie Antioniette
Broil
Torch
Jorah
Nightmare
Agrippina
Furnace
Groucho
Thorn
Godzilla
Match
Fang
Rogue
Catastrophic Quaken
Mystique
Whispering Death
Cersei
Maximus
Peaches
Scarface
Smokey
Invictus
Magma
Singetail
Thor
Sentinel
Ignite
Smolder
Daenarys
Cesar
Scauldron
Waddles
Blackbeard
UrsulaShifter
Stormcutter
Snow Wrath
Scorch
Changewing
Kahl
Rage
Bellatrix
Khaleesi
Glowy
Hercules
Ghost
Smothering Smokebreath
Icecube
Scar
Grim Gnasher
Cheddar
Viscerion
Bane
Hodor
Sandy
Phoenix
Xerxes
Smithy
Soot
Flame
Sandbuster
Bewilderbeast
Tyrion
Hades
Beast
Snowfall
Zeus
Blaze
Typoomerbang
Valyrian
Burny
Seashocker
Forge
Leviathan
Darth Maul
Dino
Zardo
Stark
Dracarys
Toast
Escobar
Moonscape
Darth Tyrannus
Crankenstein
Rhaegal
Crater
Medusa
Snarky
Maki
Razorwhip
Cheesy
Sun
Sparky
Thunder
Athena
Cavern Crasher
Hannibal
Sulky
Griller
Tank
Lucifer
Buggy
Screaming Death
Dothraki
Lannister
Char
Victoria
Drogon
Monstrous Nightmare
Dusty
Martin
Balerion
Starry
Mufasa
Lava
Speed Stinger
Flint
Sunny
Wolverine
Triple Stryke
Terrible Terror
Diablo
Drago
Flightmare
Death Song
Spike
Kindle
Arya
Pinocchio
Dramillion
Rambo
Zippleback
Cloudy
Wildfire
Inferno
Glow
Cleopatra
Cross
Interesting and Cool Facts about Bearded Dragon
So, once you learned all bearded dragon names, let's have a quick look at their other characterization.
Bearded dragons are the scaled reptiles who live 6 to 15 years long.
However, their average life is nearly 10 years.
They weigh 10 to 18 ounces and can grow up to 24 inches.
However, commonly bearded dragons grow up to 15 inches only. 
While bearded dragons are native to Australia, they are also found in other warm and arid areas.  
Like lizards, bearded dragons go into Brumation during the winter months.
During Brumation, they may not eat but will come out to drink water.
They are completely omnivores. They eat both meat and veggies.
Even though a huge number of them are removed from the wild, bearded dragons are stills stable in population. 
To raise their body temperature, bearded dragons lay on stones and soak sunrays.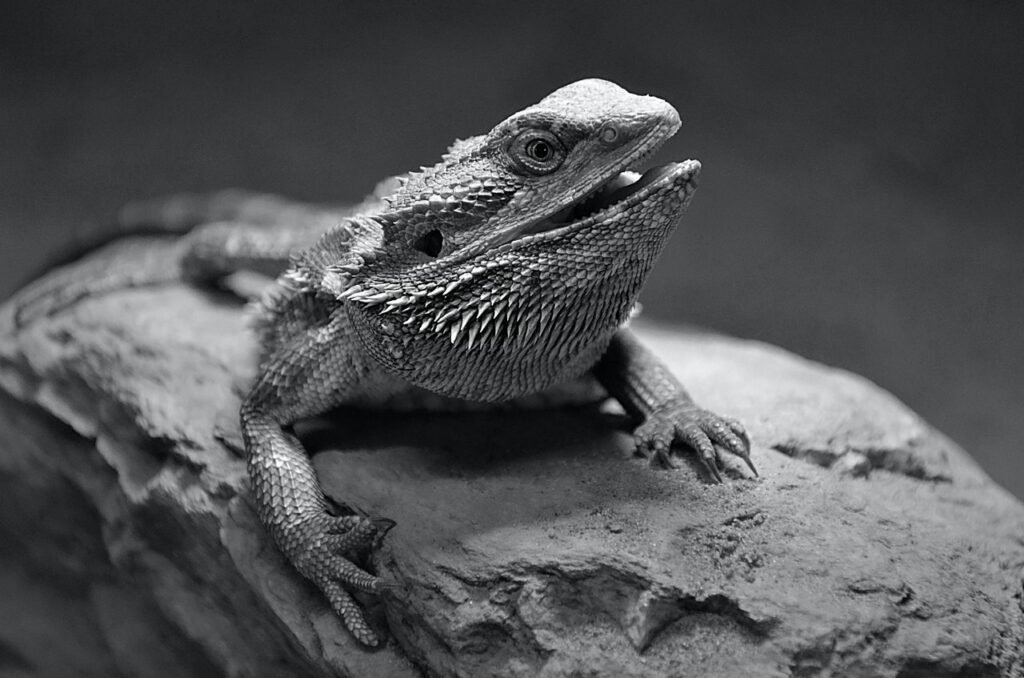 Frequently asked questions
Can your pet bearded dragon hurt/ harm you? Are bearded dragons poisonous?
No, bearded dragons are not poisonous or harmful to human beings.
Despite their capability of biting you, their jaws cannot break through your skin.
Do bearded dragons love pampering?
Yes, bearded dragons are those reptiles who love being held, pampered, or taken out of their cage.
Can bearded dragons mimic their owners?
Bearded dragons are smart pets, and at times, they can even imitate other reptiles or human owners.
Why does my bearded dragon turn black?
It is common for bearded dragons to turn black. They do so in order to absorb as much heat as possible, especially in winters.
Why is my bearded dragon turning grey?
Before bearded dragons begin to shed, their eyes will become slightly puffy, and color will change into grey. It is a good sign of a healthy shed cycle. 
What are orange bearded dragons called?
Tangerine and Sunburst and are common names for the orange variety of bearded dragons usually seen in pet stores and with breeders.
Partying notes.
So, these were some cool, funny, and cute names for your bearded pet dragon.
Take your time while choosing their name as it will associate further for the next 10 to 12 years.
Further, to make sure your bearded dragons identify their name, you can follow some quick tips.
Call out their name with soft tones and repetition.
Also, make sure you speak their name intentionally while feeding or petting. It won't take long for them to identify and recognize their name.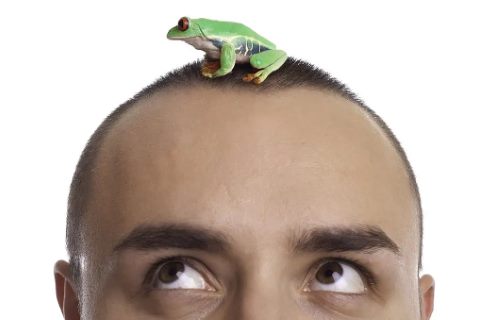 Hi, I'm Mike, and I'm the creator of amphibianlife.com. If there was one word to describe it? It would be: passionate about Amphibians! Whether you want to know more about amphibians or have a presentation to give at school, you've come to the right place.