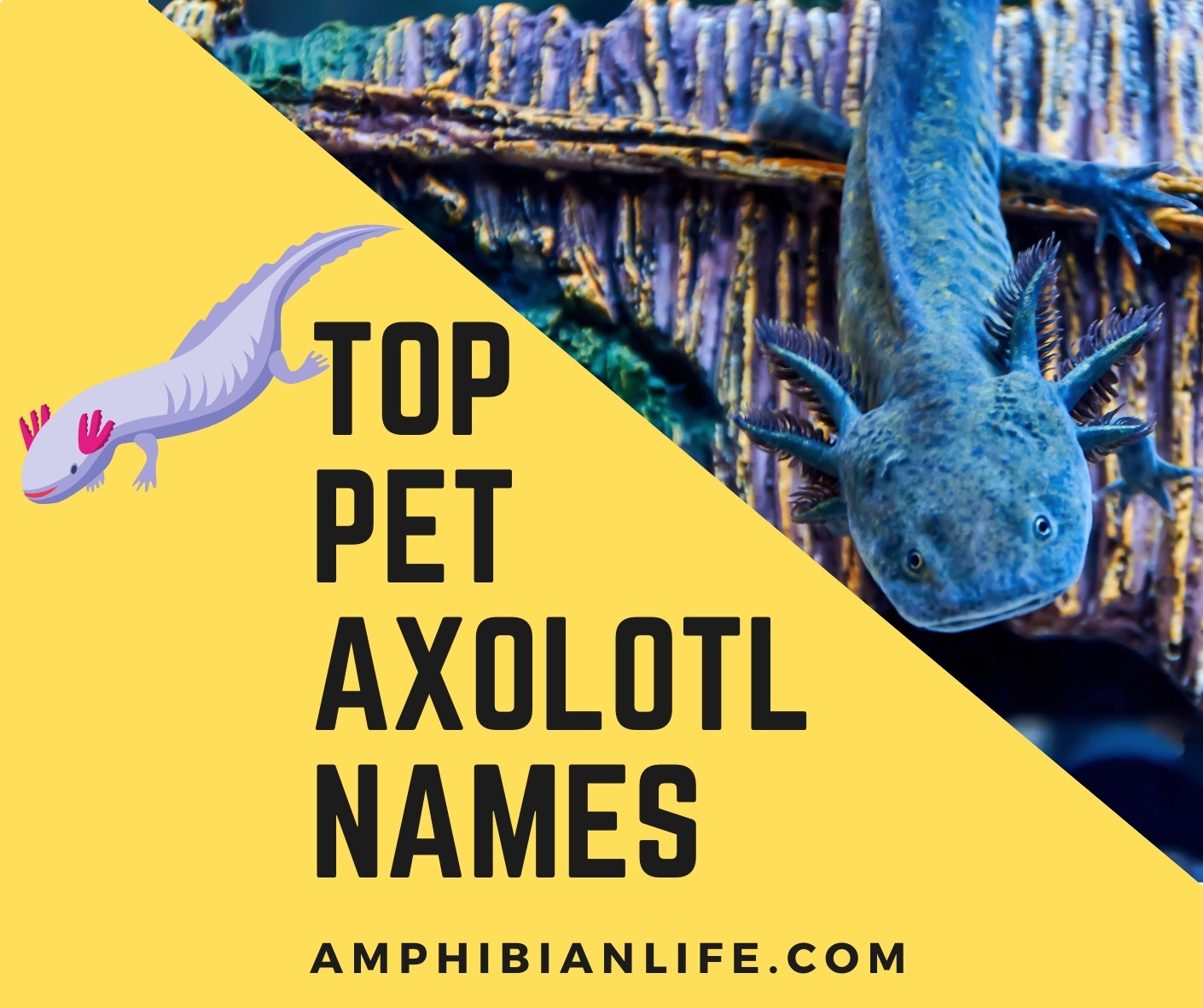 Many of us have an undying love for exotic pets, especially Axolotls.
Despite Axolotl's are an uncommon pet in several countries, it is still a popular choice amongst amphibian lovers.
Axolotl which is also known as the Mexican walking fish is the cutest amphibian you can own.
Even though the process can get complex, pet owners can get comfortable keeping them with specific training.
If you have introduced Axolotls to your home, you may have thoughts of several names.
Because these little creatures are cute and fascinating, their names should be unique as well.
You will find several wild, adorable, cute, funny, and unique Axolotl names.
Most Adorable and Cute Axolotl Name Ideas
Axolotls are the cutest amphibians with the most adorable smile. 
For naming them, look no further than the list below:
Axoltol names with fun explanations:
Axie – Short for Axolotls.
Aristotle– Don't you think this pet name relates to Aristotle, the great philosopher.
Aquaman- If they love water, what's better than giving a relatable name.
Bubbles- The name goes apt with their natural water-loving habit.
Mutkip– You may have heard of this adorable name for an axolotl-based Pokemon character.
Mr. Little Foot- Suits aptly to their teen-tinny foot.
Professor Head Booper-This little creature absolutely loves bopping their heads out of the aquarium.
Pebbles- They will always try hiding behind rocks, and pebbles, then why not name them the same.
Squishy- Aptly suiting their soft-squishy body.
Smiley- There should definitely be one name for their adorable smile.
Ziggy– Spot-on for their Zig-Zag movement.
Some More cute and adorable names for pet Axolotls
Axo-little
Alex
Aximus
Hoover
Fatboy
Aragorn
Cpt Jack
Hector
Hellboy
Pokemon
Stitch
Itachi
Monster
Doodle
Henry
Sprinkles
Frankie
Mojo
Stumpy
Owen
Elphy
Jester
Dylan
Mochi
Mirinda
Nero
Poseidon
Caliban
Buffy
Pringles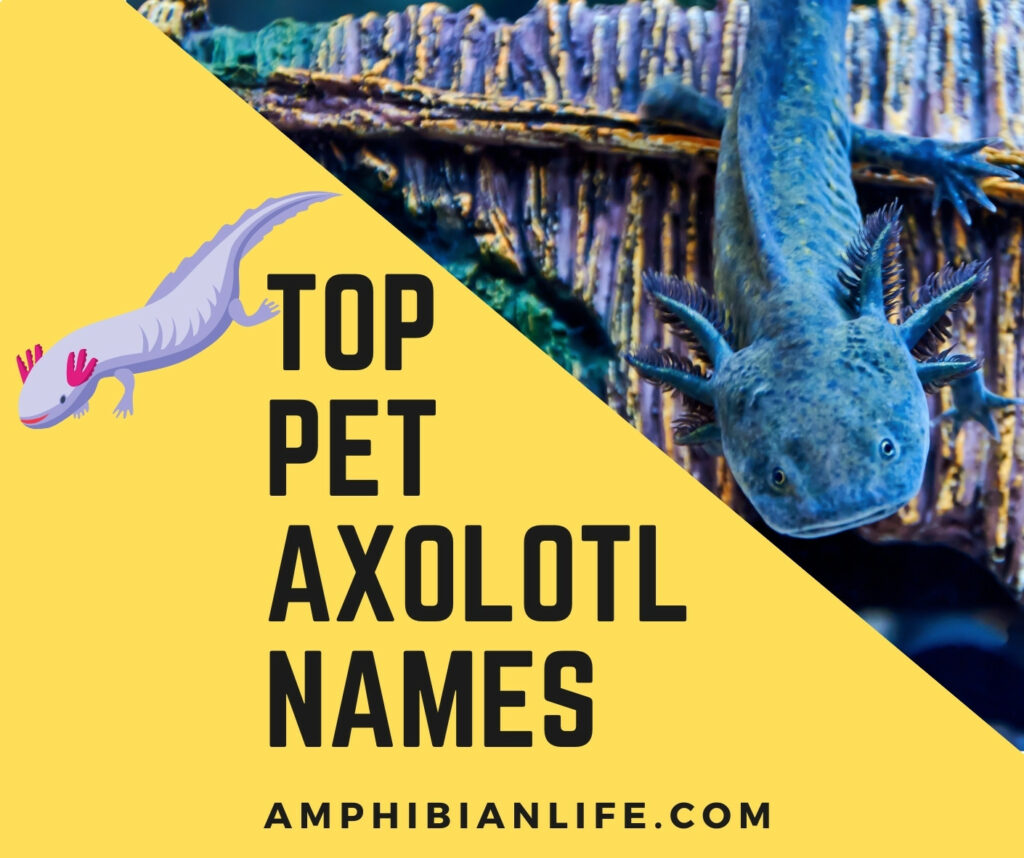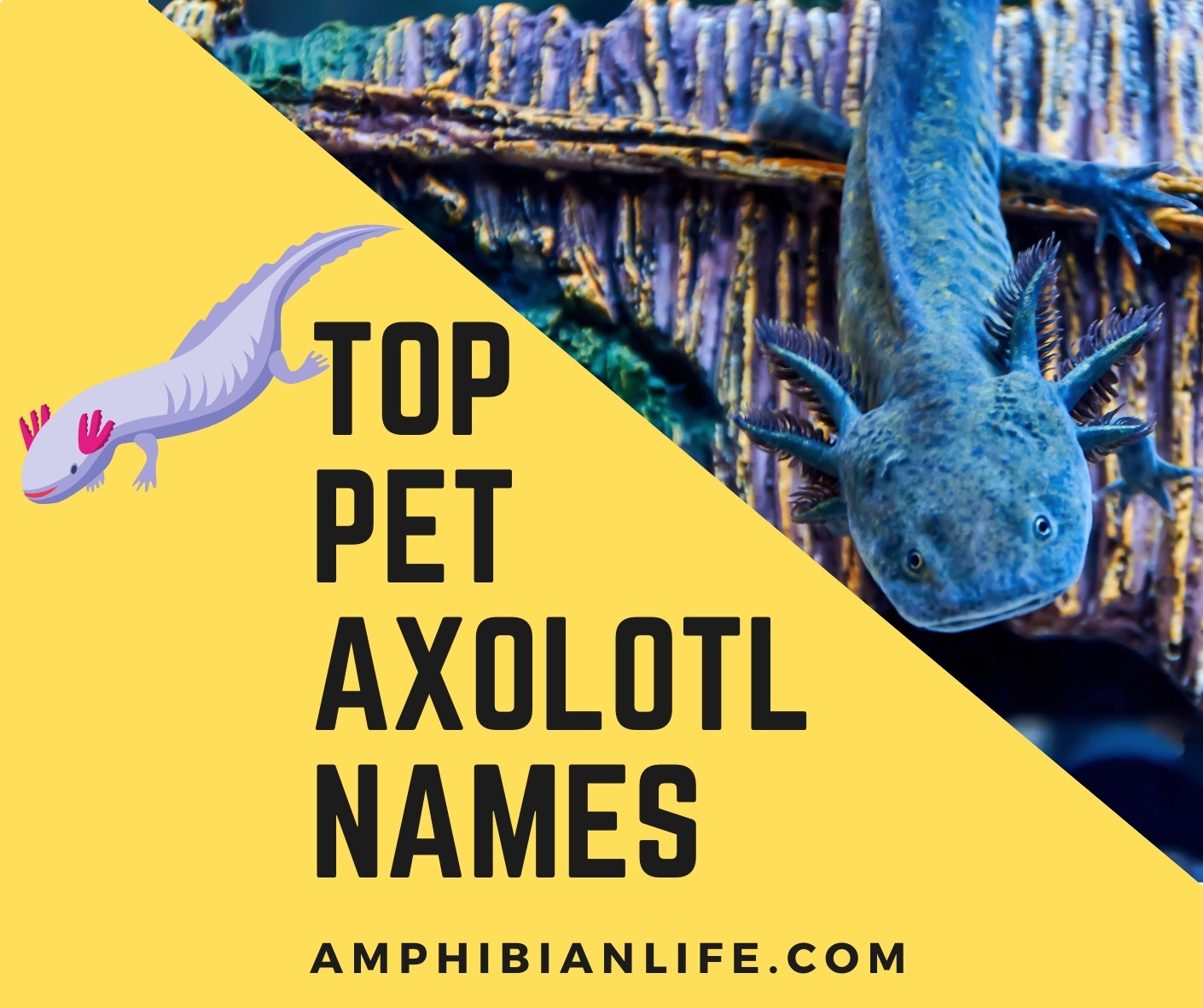 Good and Funny Pet Axolotl Names
If you own a pet Axolotl, you cannot have just any other ordinary name. These squeaky little creatures deserve some good and funny names, and we have some finest options for that.
Ariel- Ok, not the washing detergent; this nice name relates to the little mermaid.
James Pond– Living within the ponds, why not name them James Pond.
Harry Water– Like Harry Potter.
Mr. Flipper– For their playful flips and funny activities.
Rainbow- We know they aren't that colorful, but you too will agree with their glorious charm.
Speedy- For their size, that run is actually very speedy.
Piggy– Don't you think their skin appears like that of pigs. A little, right?
Kitty– Only keep them away from an actual kitty cat.
Bastante– Ok, that is not odd. It is Spanish for Pretty. And you would disagree with the prettiness of these creatures.
You may also like to read: Top 50 Amazing Axolotl Facts for Kids
List of Cute Axolotl names for both Male and Female
Nancy
Bandit
Melvin
Henge
Bonnie
Dash
Nemo
Lilo
Owen
Frank
Sputnik
Covid
Gill
Belle
Hellboy
Diva
Fluff
Firebird
Chile
Smog
Itachi
Dance
Pinky
Lays
Juno
Jojo
Jester
Carlos
Japanese axolotl names
While picking a Japanese name for your Axolotl, you are making an absolute sensible choice.
Names from Japan have a musical ring that actually pays tribute to culture and history.
Here are some Japanese Axolotl Names with their meanings. Have a look:
Akio- Bright.
Asahi- Sunlight
Akira- Wisdom
Aoki- Blue tree
Asa- Morning
Ahmya- Black Rain
Ayaka- Colour
Asuga- Tomorrow
Chiasa- One thousand mornings
Okimi- Bright Shining Light
Tora- Tiger
Umi- Beauty
Seijun- Pure
Kumiko- A long-time beauty
Youko- Sunshine
Reina- Wise
Shoko- Auspicious
Kiyoshi- Pure
Kei- Intelligent
Katsumi- Overcome
Aki- Crystal Clear
Jin- Bright
Mitsu- Honey
Soma- Smoothly
Saku- Remembrance.
Ren- Love
Kyo- Peach
Yuu- Tenderness
Jona-Dove
Kuma- bear
Doi- Eastern Well
Fuji- Mountain
Beluga- White Fish
Giniro- Silver
Hoshi- Star
Mizuki- Beautiful Moon
Kaiyo- Ocean
Hiroshi- Generous
Keiji- Joyous
Nori – to rule
Reo- Lion
Sakura- Cherry Blossom
Seeichi- Loyal and Sincere
Sushi- Cuisine
Akarui- Bright
Daiki- Large and Shinning
Haru- Spring
Junko- Pure and Obedient
Madoka- A flower
Rabi-Springtime
Toshi- Wise and Bright
Yoshito- Upright Man
Hana- Flower
Gender-neutral Axolotl Names
Cute Axolotl Names for Boys and Girls
If you are looking for a Gender-neutral name for your pet Axolotls, we have a list preserved for that. Have a look:
Gender-neutral axolotl names
Chuckie
Luigi
Guss
Tupac
Pete
Fonz
Groucho
Castle
Sanchez
Teabag
Proteus
Sphynx
Sheep Head
Karl
Lance
Steve
Blaze
Ghost
Dogga
Sparkle
Matey
Onion
Wooper
Caspar
Willy
Nacho
Archie
Ash
Timmy
Wallace
Smog
Star
Lumen
George
Perky
Locks
Blighter
Archie
Ash
Timmy
Wallace
Smog
Star
Lumen
Stardust
Snowball
Chainblade
Banana
Fritter
Zorkki
Wally
Arnie
Finley
Naruto
Gemini
Jack
Malvolio
Razzo
Otis
Theodore
Cujo
Stoned
Cute Axolotl Names for Boys
Noodle
Zeus
Axl Rose
Ralphy
Dash
Firebird
Carlos
Ditto
Skylar
Poncho
Castiel
Wart
Nemo
Bongo
Toothless
Axel
Abraham
Lupo
Spotl
Pluto
Fizz
Smiley
Falkor
Freddie
Saxo
Aristotle
Clyde
Chile
Muppy
Spyro
Flulaborg
Helios
Bucky
Pikachu
Leviathan
Dylan
Toni
Fenton
Sebastien
Speedy
Sheepnut
Snoop
Plant
Rooster
Cale
Chomp
Spot
Concrete
Frank
Homer
Caliban
Atticus
Peanut
Kreacher
Enzo
Cute Axolotl Names for Girls
Sadie
Tantra
Sakura
Myca
Sugar
Sally Mander
Mandy
Mango
Milly
Shmoo
Ursula
Zania
Zelda
Monique
Alexa
Breanna
Maxine
Rossie
Olivia
Pepper
Pretzel
Pixie
Daisy
Elsa
Gigi
Hazel
Maxine
Rossie
Sadie
Lexel
Lotola
Marly
Rose
Unique Axolotl Names
Here is a list of some never heard Unique Names for Axolotls
Mandrake
Nightcrawler
Quentin
Scooter
Python
Ebony
Scratcher
Speedy
Tesla
Tucker
Whisper
Calico
Chocolate
Diggerette
Obama
Pacifier
Eminem
Finny
Hacker
Ivory
Joy
Miscellaneous Axolotl names from A to Z
Ace
Adam
Albie
Aleena
Biscuit
Boo
Brax
Breanna
Breezy
Brendon
Cassian
Catrin
Cem
Cerys
Chandni
Doris
Dory
Dotdot
Driscol
Eliana
Elias
Elis
Elisa
Elisabeth
Felicity
Felix
Finn
Finny
Flash
Flora
Florence
Gianni
Gigi
Gilbert
Ginger
Giovanni
Harry
Harun
Harvey
Harvir
Havin
Hazel
Heena
Isaiah
Ishaq
Ismael
Ivory
Jamie
Jamil
Jasper
Jayden
Jeanne
Jeepers
Kayne
Kealan
Keelan
Keisha
Keith
Lauryn
Leanna
Leanne
Lemar
Lena
Lennon
Maisey
Maksim
Malakai
Malcolm
Nessie
Nial
Nicolle
Olaf
Olivia
Oluwatobiloba
Oriana
Paranormal
Patrik
Paulina
Pedro
Quentin
Reginald
Reilly
Rhodri
Ricky
Samson
Sandra
Sade
Sadie
Tate
Tesla
Thunder
Tiana
Timothy
Ubaid
Ursula
Usaamah
Winky
Wizzard
Wolverine
Wren
Xavier
Yasin
Yoda
Yorme
Zaynah
Zealot
Zelda
Zippy
Partying Words
Axolotls are amazingly friendly and interactive aquatic pets that are easy to care for.
I hope this article provides you some inspiration and idea about the name you are looking for your beloved axolotl.
If we are missing out on any names in the above list do let us know in the comment section we will surely update them.
For Further Reading
500+ Cute, Funny & Unique Frogs and Toad Names
300+ Cute, Funny & Unique Salamanders Names
500+ Cute, Funny & Unique Snakes Reptile Names
500+ Cute, Funny & Unique Gecko Lizard Names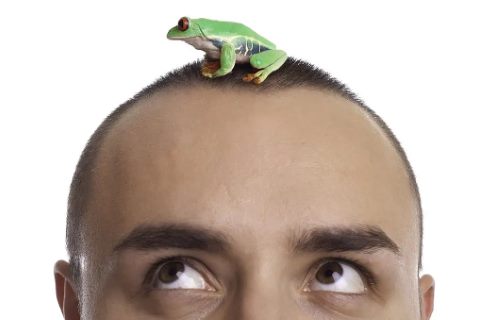 Hi, I'm Mike, and I'm the creator of amphibianlife.com. If there was one word to describe it? It would be: passionate about Amphibians! Whether you want to know more about amphibians or have a presentation to give at school, you've come to the right place.